P30 ROS File
This utility facilitates fast, effective upload of your P30 return to ROS. In order to use this facility, your company must first be registered to use the Revenue Online Service.

The P30 is the total of:
the tax deducted from the pay (PAYE, USC, LPT) of all employees less any tax refunded to them
plus
the total PRSI contributions (the amount deducted from pay plus the amount payable by the employer) and should be remitted to the Collector General within 14 days from the end of the income tax month during which the deductions were made.


For employers who file their returns and associated tax payments via ROS, time limits are extended to the 23rd of the month immediately following the income tax month during which the deductions were made.
PREPARING A ROS P30 FILE
To access this utility, click Revenue.
Click P30 > Create P30 ROS File on the menu toolbar


Select the relevant month/ quarter for your return period.


Select a location to save your ROS P30 file to and click Save.


A prompt will appear to confirm that the file has been successfully created. Click Close.
Your P30 file is now ready for upload through your ROS utility.
SUBMITTING A P30 FILE THROUGH ROS
To access your ROS utility, go to www.revenue.ie > ROS Login.

Select your Certificate and enter your Password


Click Login


Under My Services, select the option Upload Forms Completed Offline


Select P30 from the drop down menu and click Upload Return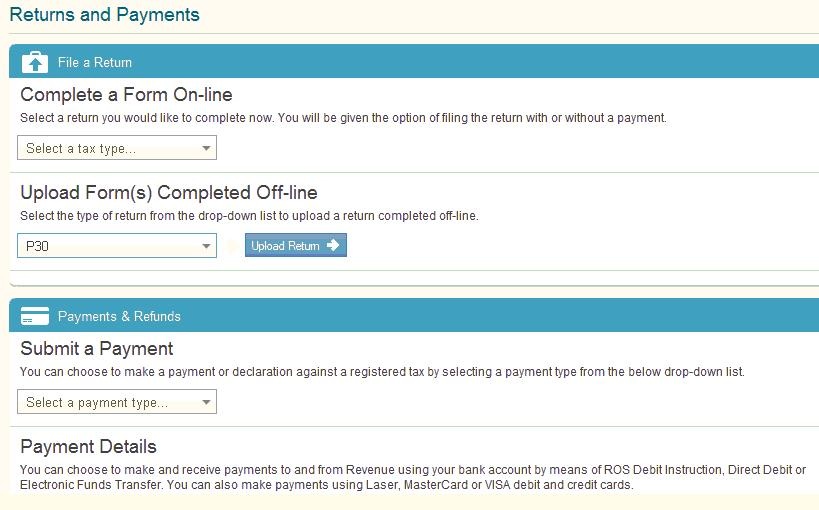 Click Add file and browse to where you saved your ROS P30 file


Click Open


Select your Certificate and enter your Password again


Click Upload File when ready


Confirm that the P30 details are correct, then click Next


Tick file return only to make a P30 return with NO payment (Use this option if you wish to return a P30 without payment or if you have NO payment to make)


If you wish to make a return with a payment, select your Payment Method i.e. ROS Debit Instruction, Card Payment etc and complete accordingly


Enter your Password again and click Upload File to submit your P30 return


An acknowledgement of your P30 return will be sent to your ROS Inbox