CSO
To access this utility, go to Employees > Select Employee from listing > CSO
What does this section do?
The CSO section facilitates the compilation of CSO (Central Statistics Office) statistics for the EHECS (Earnings, hours & employment costs survey).
If selected to complete these surveys, you are obliged by law to fully complete and return these forms to the Central Statistics Office. Further information can be found at www.cso.ie .
Please note: the CSO section must be completed for all employees in order for the software to be able to compile the CSO statistics required.
Complete the CSO section as follows:
Role
Using the drop down menu, select the role that applies to the employee:

Manager/Professional
Examples: Legislators and senior officials, corporate managers, managers of small enterprises

Clerical/Sales/Service
Examples: Clerks, office workers, service & sales workers

Other
Examples: Plant & machine operators & assemblers, skilled craft & trade workers and other manual occupations
Job Type
Select whether the employee works full-time, part-time or is a trainee/ apprentice.

Hours Worked Per Week
Enter the number of hours the employee normally works per week.
Wages
Tick the box if the employee is paid less than or equal to the National Minimum Wage.
Exclusion
If the employee is to be excluded from the CSO return (e.g. if the employee receives a pension only, is a Community Employment Scheme worker, etc.) tick the box provided.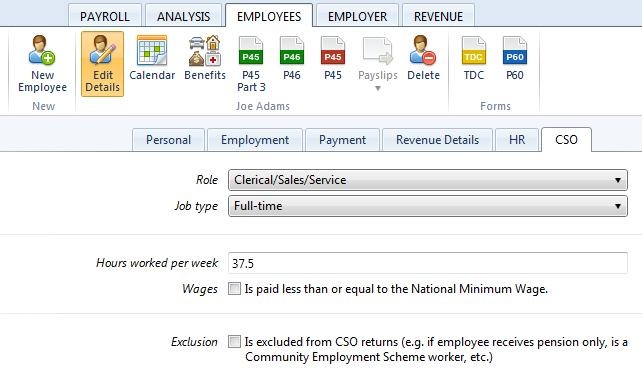 THE EMPLOYEE'S CSO SECTION IS NOW COMPLETE. TO NOW SAVE THE EMPLOYEE'S RECORD, CLICK 'SAVE CHANGES' AT THE BOTTOM OF THE EMPLOYEE SCREEN.