Restoring a Payroll Data File
Should you need to restore your payroll data at any time from a backup that has previously been taken, simply click 'File > Snapshots...'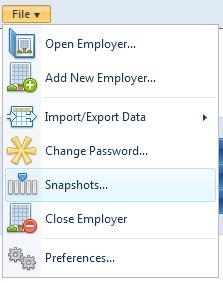 1) Click on 'Restore Snapshot' to display a list of available backups that the software can detect and the date and time these were taken. To the right of each backup you will also find additional information regarding the backup, including any notes that were entered at the time of backing up the payroll data.

2) To restore a backup, select the appropriate snapshot from the list and click 'Restore Selected Snapshot'.
3) If happy to continue with the restore, click 'Yes' to complete the process.