Last chance to register! Free CPD accredited webinar with Thesaurus Software & Revenue
PAYE Modernisation, One Month On!! New Year, New Payroll Legislation
Thesaurus Software and Revenue have teamed up for another series of free PAYE Modernisation webinars featuring a brand new agenda. We will look at what has happened since PAYE Modernisation has gone live and the challenges businesses are facing.
The first webinar in the series takes place on January 30th and is CPD accredited for accountants. Due to the high level of interest, this webinar is almost booked out with just 50 places remaining. Book your place now to avoid disappointment.
The webinars are aimed at giving you an overview of how the new real time reporting system works, the benefits of this new system and how to make sure that your business is PAYE Modernisation compliant. We will peel back the PAYE Modernisation legislation to outline clearly how PAYE Modernisation affects the payroll process and what is expected from you in 2019 and going forward.
Register here | View extra dates added
Free PAYE Modernisation eBook:
Surviving PAYE Modernisation! What to do to comply
Download your free copy of BrightPay's PAYE Modernisation guide for employers. In this guide, we discuss practical PAYE Modernisation tips that every employer needs to know.
Download free guide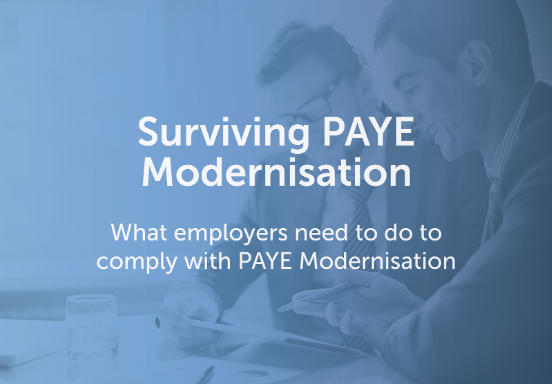 Thesaurus Software & PAYE Modernisation
Thesaurus Software is the number one payroll software provider in Ireland with two different payroll packages to choose from - Thesaurus Payroll Manager and BrightPay. Both systems include full PAYE Modernisation functionality at no extra cost. We have worked closely with Revenue to ensure that both systems are fully compliant.
Our products are used to process the payroll for over 125,000 businesses across Ireland and the UK. BrightPay won the Payroll Software of the Year 2018 award at the Accounting Excellence awards. With a 99% customer satisfaction rate, our customers can rest assured that all required functionality is catered for.
We have made it easier than ever before to switch to BrightPay - You can import your payroll data from Sage, Collsoft, Big Red Book, and many others.
Book a BrightPay demo | Watch short PAYE Modernisation video | Download 60 day free trial